One of the challenges when using Amazon as a supplier for eBay dropshipping is the disadvantage of having some of your orders shipped with Amazon's own shipping carrier known as "AMZL" or "Amazon Logistics".
Amazon logistics provides you with a unique tracking number that can only be tracked from the Amazon order page. This can have an effect on your eBay seller account in multiple ways:
Top Rated Seller statusSince one of eBay's requirements to achieve the Top rated seller status is to have a certain percentage of track-able orders. Having some of your orders shipped with AMZL, can sabotage your goal of reaching the Top rated seller status.
Customers service queries Buyers tend to feel excited when ordering an item and they wish to track the delivery, but when trying to track Amazon Logistics based item you see no information. That is when they start asking questions, opening cases etc. Moreover, this can be a recipe for scams as well
Loosing cases If buyers claims that they did not receive an order, you won't have a legit proof to win the case, which can affect your rating as well.
DSM Tool FREE solution with Bluecare express
DSM Tool has teamed up with BlueCare express to deliver a reliable 100% FREE solution for these concerns.

How does it work?
Simply Install DSM Auto-Paste chrome extension, once installed, you'll be able to use it to Auto paste tracking number from Amazon to DSM.
This process will get you a unique and verified BlueCare express tracking number that will be recognized and tracked on eBay.
Follow the steps below to learn how to Auto-Paste the tracking details:
1. Open the received email from Amazon notifying about shipped order, or you can skip this step and open the order Tracking page directly from Amazon.

2. DSM Auto-Paste will automatically detect Amazon logistics tracking number and will convert it to BuleCare express tracking number.


Note: If the order was delivered already, BlueCare will not convert the tracking number, therefore the original Amazon Logistics tracking number will be copied.
The following notification will be displayed.

3. Once converted, the tracking number will be copied to the clipboard and you'll be redirected to DSM Tool Sales & Orders page.


4. Locate the relevant order from the list of orders, and click on the Add tracking button.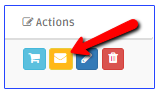 5. BlueCare express tracking number will automatically be pasted into the dedicated field, press ADD to save the tracking into the order.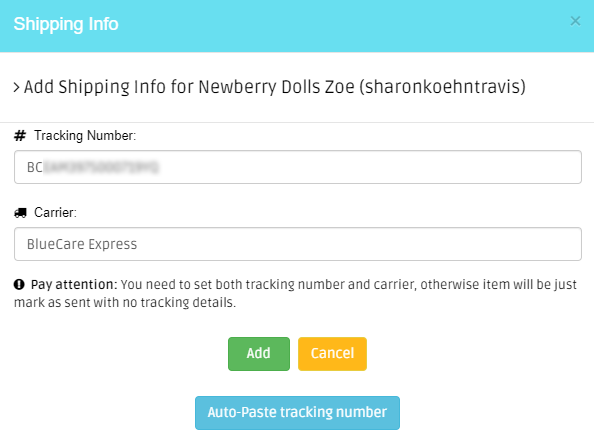 Click here to learn how to use DSM Tool Auto-Paste to update tracking numbers automatically

Note: This solution is available for FREE when using DSM Auto-Orders as well, click here to learn more.